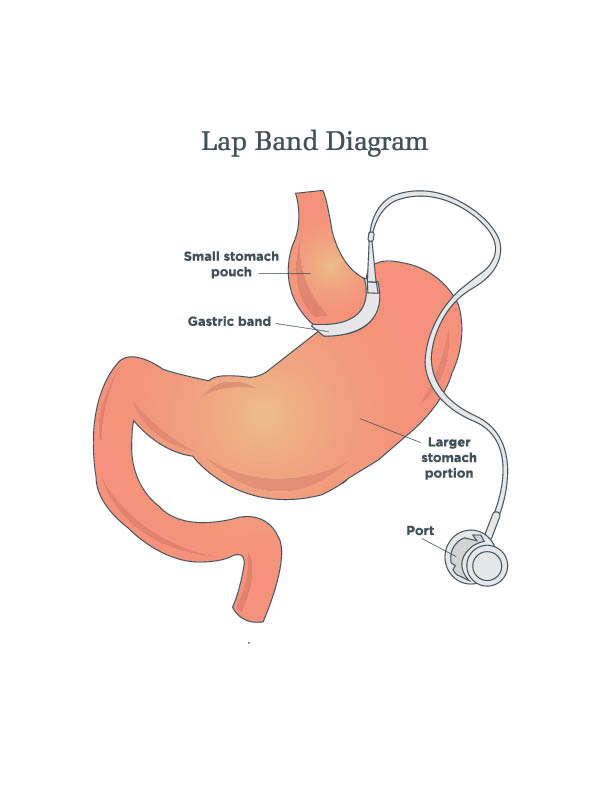 An adjustable gastric band consists of a silicone and plastic band that goes around the upper part of the stomach, and a system for tightening and loosening the band. The system includes an inner lining to the band that is inflatable with saline (salt water), tubing and an access port. The access port is implanted under the skin. When the band needs to be adjusted, a needle is stuck into the port, allowing the physician to add or remove saline.
Everything a person eats or drinks still passes into the rest of the stomach and then into the intestines. Digestion then takes place exactly how it did before surgery.
How it Works
A gastric band works mostly on the concept of restriction but can also help with reducing appetite.
Restriction
Having the band in place makes a person fill up on less food. The band needs to be adjusted over time to achieve just the right amount of restriction. The type of food consumed has a large effect on how much restriction is experienced. Liquid, slippery foods will easily pass through the banded area. With a gastric band, as with all weight-loss surgeries, you have to cooperate with restrictive changes and avoid habits of "eating around" the restriction by having only soft, slippery foods or by frequent snacking or "grazing."
Reduced Appetite
While restriction is the main effect, some patients with a gastric band do experience less hunger.
Adjustments
It's crucial to your success with a gastric band that you follow up with your doctor regularly. You do not want a band that is too tight or too loose, as neither is good for weight loss and can lead to complications. During your regular appointments, your doctor will help manage the band to ensure a proper fit.