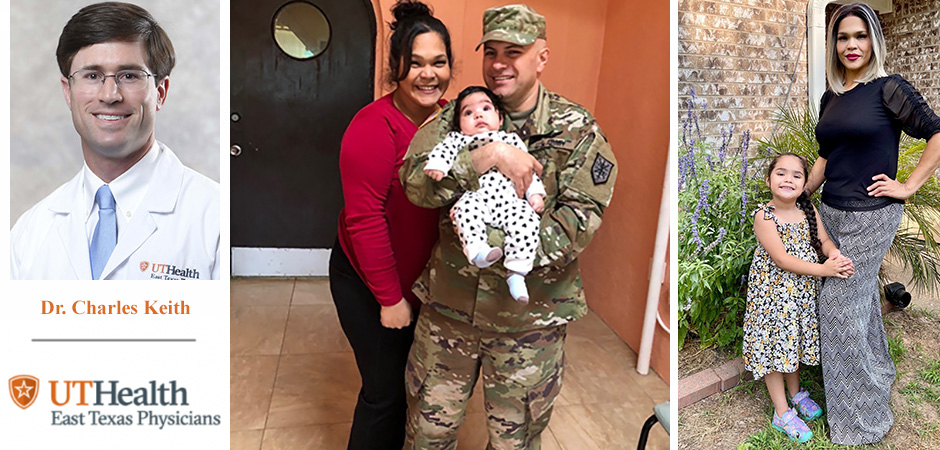 After years of dieting without successfully losing weight, Maria Tinajero has experienced great improvements after surgery with the UT Health Tyler Bariatric Center.
"Growing up, I was always the overweight child at school," said Maria, now a 46-year-old mother of six and a manager-in-training at a Tyler restaurant.
"In grade school, my mother kept me out of gym class because of my weight. I guess she wanted to keep the other students from making fun of me. But now that I think about it, I could have tried harder and pushed through all the comments. It could have changed my life completely," Maria recalled.
Encouragement for her children
In addition to being overweight, Maria has dealt with a number of conditions that run in her family: diabetes, high blood pressure and heart disease. These health issues made it more difficult to lose weight after having children.
"I started being more active in my 30s," Maria said. "I would take the kids to the park and we'd walk, play volleyball and even go to the gym. I wanted to teach my children how important it was to exercise. I did not want them to go through what I did." With her support, her children were active in football and basketball.
Maria's own weight loss efforts, however, continued to rise and fall like a roller coaster.
"I remember losing 100 pounds on a diet that included a lot of supplements. But once I stopped the diet and the supplements, my weight went over 200, higher than it was before."
Then in 2020 when COVID-19 hit, Maria's weight rose to more than 300 pounds.
"I got those last 100 pounds while eating and driving our elderly family members to and from doctor appointments and hospitals," Maria said. "That's when my doctor warned me that with my elevated blood pressure, something had to change or I may die at an early age."
Weighing 332 pounds at the time, Maria's primary care provider put her on a number of medications: one for high blood pressure, another to help with her appetite and a third to lose water weight. But after a while, Maria still wasn't losing much weight, so her doctor referred her to Dr. Charles Keith and the team at UT Health Tyler Bariatric Center.
After discussing her health with Dr. Keith, he recommended that Maria undergo gastric bypass surgery.
"I was nervous about the surgery," Maria said, "but I'm so glad I did it."
Gastric bypass surgery
The gastric bypass procedure divides the stomach into two unequal parts. The top part, now called "the pouch," is only about the size of an egg. The rest of the stomach becomes "the bypassed stomach" because food and fluids no longer enter it. The bypassed stomach is not removed, and still makes stomach enzymes and juices.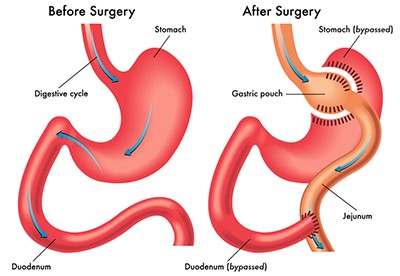 Once the pouch has been created, food comes in at the top, and then leaves the pouch through a small opening called the "stoma," and travels into the intestines where digestion can take place. The juices from the bypassed stomach travel down a different part of the intestines and ultimately are mixed with the food. No parts of the stomach or intestines are removed. This results in a smaller stomach that gets filled quicker, thus keeping the patient from eating as much as before. The surgery also decreases the hormone that tells you that you're hungry, and it increases other hormones that slow your digestive tract and help regulate blood sugar and metabolism.
Maria did not have any complications after the surgery, just the expected side effects of adjusting to a new stomach configuration.
"I took a little longer going from the total liquid diet to solid foods because I wanted to make sure my stomach healed properly," Maria said. "But now that's been a little more than a year since the surgery, I'm very happy with the results. I lost about 170 pounds and my weight only fluctuates between 153 and 160."
Family activities
With her successful surgery, Maria has increased her activities to maintain her weight loss.
"Since I work mainly in the evenings, I'll take a two-hour Zumba class in the morning and then go to the gym or walk in the park most days in the afternoon. I have a four-year-old so I've got to keep up with her. I have so much energy now, it has completely changed my life."
Maria and her family want to spend more time outdoors, especially when her husband Elvis Tinajero, a second lieutenant in the U.S. Army, can join them.
"We are looking forward to camping and hiking this summer," Maria said. "We are also talking about going to the Gulf Coast, in addition to hanging around the pool, but I'm not quite ready to get into a bathing suit right now. Perhaps I will after spending a little more time at the gym."
Recommendations
Maria has high praise for Dr. Keith and the team at the UT Health Tyler Bariatric Center. "They were amazing! I know I probably bugged them with so many questions, but they were always so helpful."
She has also recommended the bariatric program to many people, especially her siblings. "The program certainly changed my life and I'm sure it can change theirs as well."
For more information and to find out if you qualify for weight-loss surgery, visit our web page or call our office at 903-593-0230.