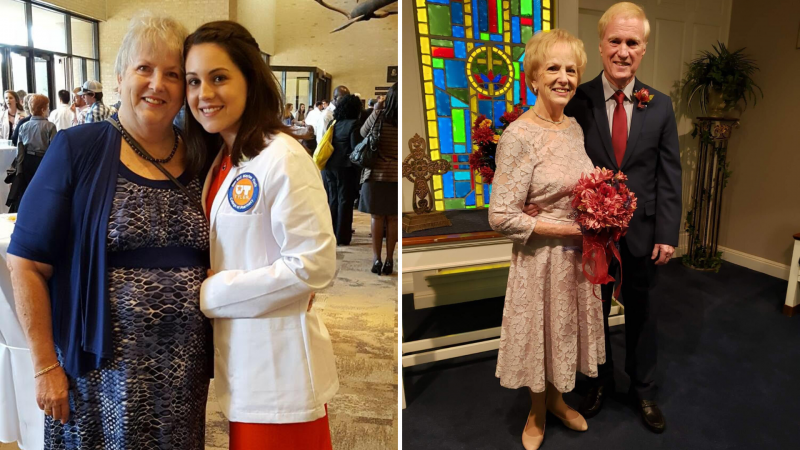 At 74 years old, Dixie McInnis didn't think she would be dancing the night away, but since having bariatric surgery in October 2017, she has been moving better than ever. She's living her life without her health holding her back.
Deciding to get weight loss surgery is a big choice, but McInnis' health kept declining. Her family physician recommend bariatric surgery and said it could help her get off all of her medications.
"I had been diagnosed the year before with type 2 diabetes," McInnis said. "I had high blood pressure. I was taking about a half dozen medications every day."
McInnis then started prepping for the procedure by getting all health clearances, passing evaluations and meeting with her surgeon, Dr. Hugh Babineau.
"Dr. Babineau's marvelous," McInnis said. "He'll answer any question you have."  
Feeling fully prepared, McInnis underwent surgery on Oct. 16, 2017.
Since surgery, she has adjusted to her new eating habits, learning the limits of her appetite, and has loved the changes in her life. She has now lost 100 pounds, even more than her original goal.
"I'm having a wonderful time and a wonderful life that I really didn't think I would ever have," McInnis said.  "It's changed me a lot. I've always been a very happy person, even when I was heavy. I wasn't satisfied with me, but I was still happy. Now I'm just ecstatic all the time. I'm always on a high."
Even with two previous knee replacements, McInnis is able to move around like never before. She and her husband are busy with renovation projects around the house, she gardens, works out regularly and even started dancing.
"I go dancing twice a week," McInnis said. "It's really nice. I've met a lot of really nice people."
McInnis said she feels much younger than her 74 years and is excited that her physician's prediction came true.
"I don't take any prescription medications at all," McInnis said. "How many 74 year olds can say that? The only thing I take are my vitamins and supplements. Right after the surgery, my diabetes was listed as controlled and now it's listed as resolved.
The headaches she used to have are gone and she says she's in better health than some of her kids.
"My kids just can't get over the difference in me," McInnis said. "My daughter is astounded. She keeps telling me how good I look. Both my boys can't believe the new me. I was heavy all their lives. This is all new to them, too, and they're loving it and the fact that I'm so active."
McInnis had wonderful success with bariatric surgery and she is healthier and happier than ever before. Her success is due to the fact that she prepped the right way, followed all the doctor's instructions and did it for the right reasons.
"You have to get yourself in a mindset and think, 'this is what I'm going to do and this is why I'm going to do it,'" McInnis said. "I went into it not so I would look better, although that was a nice perk. I went into it for health reasons. I didn't like taking those medications, so if there was a way to get off of them and stay healthy, I was going to do it."
If you're ready to take control of your health, our team would love to talk with you about bariatric surgery options to help you reach your health goals. Visit our website or call our office at 903-593-0230 to see if bariatric surgery is right for you.