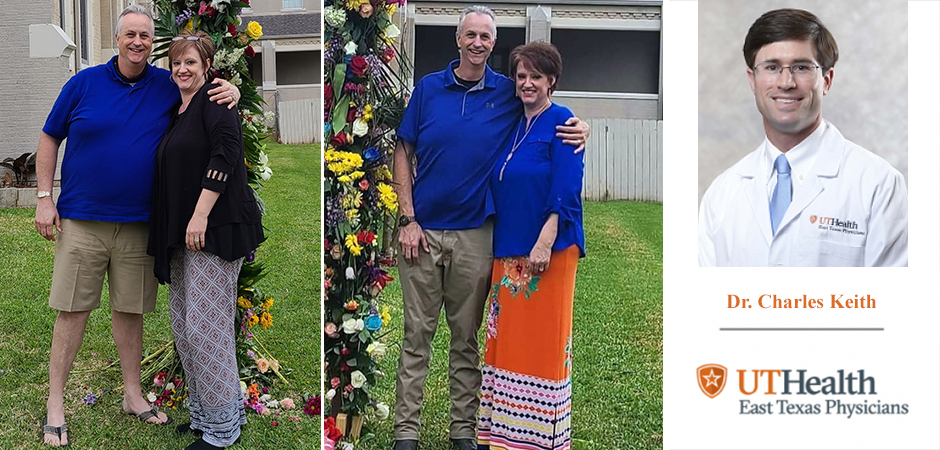 Sometimes it is easier to do difficult things when you use the "buddy system."
For the husband and wife team of Don and Lori Cupples, losing weight and recovering from gastric bypass surgery was much easier because they did it together at the same time.
The two live in Chandler and are patients of Dr. Charles Keith, a board-certified bariatric surgeon at the UT Health Tyler Bariatric Center. Don is 49 and is an English teacher and coach at Jacksonville High School. Lori, 52, is a dental receptionist in Tyler.
Battling their weights
Prior to their surgeries, Don weighed 330 pounds and also suffered from high blood pressure and sleep apnea. Lori weighed 275 and over the years has dealt with a number of health issues, including a mini-stroke, high blood pressure, acid reflux, a hernia and plantar fasciitis.
"I have struggled with my weight since getting out of high school and having children," Lori said. "I would work really hard at it, but I just kept gaining more weight. I realized that the only thing that helped me lose weight was to have a restriction on my stomach."
Don started gaining a lot of weight after the couple married seven years ago. Lori's cooking and going out to restaurants a lot packed another 70 pounds on his 6' 5" frame. "He could eat a huge plate of food and then be hungry again two hours later," said Lori. "A regular diet never worked for him because he was always hungry."
Lori had earlier consulted with Dr. Keith after she had gastric sleeve surgery at another hospital. This time, both she and Don saw Dr. Keith about possible bariatric surgery options.
"Dr. Keith was very informative," she said. "The first time that Don and I met with him, he sat us down in a room and drew a diagram of the stomach. He showed what happens during gastric sleeve surgery and what happens during bypass surgery." Both of them decided to choose bypass surgery.
Gastric bypass surgery
While there are a couple of different versions of gastric bypass surgery, the basics are the same. The surgeon will divide the stomach into two parts: a much smaller pouch and the larger remaining portion of the stomach. The small intestine is then connected directly to the pouch, which bypasses the rest of the stomach.
This results in a smaller stomach that gets filled more quickly, thus keeping the patient from eating as much as before.
Afterward, Don and Lori saw a big change in their weight and improvement in some of their other medical issues as well.
As of September 2022, Don had lost 155 pounds, stopped needing blood pressure medications and no longer suffers from sleep apnea. Lori lost 80 pounds, her hernia was repaired and she no longer has plantar fasciitis in her feet.
"Dr. Keith is fabulous and his bedside manner is top-notch," said Don. "The day after the surgery he called to check on us and to make sure everything was going the way he wanted. He's a true professional and goes above and beyond what we expected."
"We would highly recommend him and his staff to anyone who has struggled with their weight without good results. They should go see Dr. Keith," Lori added.
Good choices for nutrition and exercise
Dr. Keith's staff told Don and Lori to focus on eating lots of proteins and drinking lots of water. Protein shakes are a great way to get more protein into their diets.
"Don drinks a lot of water during the day," said Lori. "I like water and sugar-free ice tea. I prefer to eat meals with lots of protein, but will still drink protein shakes occasionally because I know I need to."
Their eating habits have changed as well. "We now share food a lot," she said. "We just feel totally different about food. You eat what you need, but you don't stuff yourself or you may get sick."
They have also stepped up their activity levels. They enjoy walking their dog together. Don also likes swimming, while Lori likes to exercise at home on their treadmill.
"Neither of us are as tired as we used to be," said Lori. "I would get home from work and would be ready to go to bed, I was so drained. I don't feel like that anymore."
Future vacations
Their newfound energy will help when they visit their seven grandchildren who live nearby. They will also start planning their summer vacations for when the school year ends. They hope to visit their son and new daughter-in-law in Florida soon, with some Spring Training baseball games on Don's "bucket list."
Now more mobile and healthier, Don and Lori are looking forward to traveling more – an activity that also works well with the "buddy system."
For more information and to find out if you qualify for weight-loss surgery, visit our web page or call our office at 903-593-0230