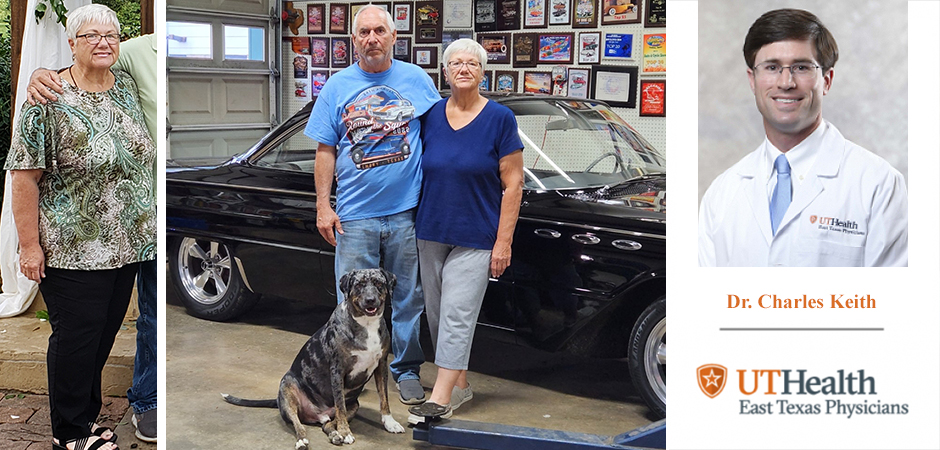 Our body is like a finely-tuned automobile. Treat it right and it can last for a very long time.
But when you overload a vehicle with too much weight, the tires can wear out quickly and you face the possibility of a blowout. This extra strain also means the engine has to work harder to make the vehicle move, which usually means more problems down the road.
Merribeth Norman, who with her husband shares a love for driving and showing their antique car (above), had similar health concerns that led her to take serious steps to get back into good health.
The 67-year-old retired embroidery machinist once weighed 305 pounds, which led her to consider bariatric surgery. She also had difficulty walking because of "bone on bone" osteoarthritis in her right knee.
Unfortunately, she couldn't fix the troublesome knee because she weighed too much to have surgery (patients with a Body Mass Index (BMI) over 40 have a higher risk of surgical and anesthesia complications).
"There was no way the doctors were going to do anything with me until I lost weight," Merribeth said. "They came right out and said that off the bat, so that was a big problem."
She consulted with Dr. Charles Keith, Jr., a board-certified bariatric surgeon at the UT Health Tyler Bariatric Center, who explained the different options for surgery. She decided to have gastric sleeve surgery at UT Health Tyler.
Gastric Sleeve Surgery
This surgery involves the removal of 80% of the patient's stomach. It keeps the stomach at the same length but with a much slimmer width, like a shirt sleeve. Since the space inside the stomach is much smaller, a patient feels full after eating less food.
Additionally, after sleeve surgery, the main hunger hormone in our body decreases, so people tend to feel less hunger and cravings.
"I appreciated Dr. Keith and his staff for telling me what he was going to do and how the surgery would work," she said.
"The staff scheduled me to talk to a psychiatrist about getting into the right mindset for the surgery. I also met with Jayden, the dietitian, who taught me about healthier eating habits and tips to help change my diet. I was able to lose 20 pounds beforehand!"
The surgery was successful and Merribeth was released the next day to go home. It's now been a year since the surgery and Merribeth is still eating healthier and smaller meals. "After the gastric sleeve surgery, I don't really want to eat a whole lot. My stomach is not as big as it once was."
Healthier diet and lifestyle
She also credits her dietitian for giving her lots of information about a healthy diet. "I try to drink a protein shake once a day because he wants me to eat more protein. He also mentioned a few things I could get at the grocery store to make a healthy meal. Now I really watch what I eat and make sure there is lots of protein in my diet."
So far, Merribeth has lost a total of 106 pounds since before the surgery. She has also increased her activity, often walking more than 10,000 steps around her neighborhoods in Canton.
"I'm walking up a storm now," she said. "I try to stay active and walk near our home for about 30 minutes every morning. I didn't even have to have knee surgery because my knee doesn't bother me anymore."
With her weight loss, Merribeth and her husband are looking forward to some traveling. She has already flown to see her sister in Denver. "That was the first time I've ever flown in an airplane," she said. "Those airplane seats are so small. Thanks to my surgery, I went from a size 3X to a size 14 so I can now fit into the seats. The surgery really made a difference!
The trips they most enjoy, however, are the ones to antique car shows. "It's very fun and we meet a lot of new people and make good friends," she said.
Merribeth and Glenn show their car every year at the National Street Rod Association Show in Springfield, Missouri, but mostly they enjoy meeting up with their friends – four other couples who share their love for the cars.
"We are all street rodders and love to show our cars at several car shows throughout the area. My husband is a mechanic and operates Norman Garage downtown, so he keeps our black 1961 Buick LeSabre bubble top in good shape."
Just as Merribeth keeps her own health in good condition for the road ahead.
For more information and to find out if you qualify for weight-loss surgery, visit our web page or call our office at 903-593-0230.