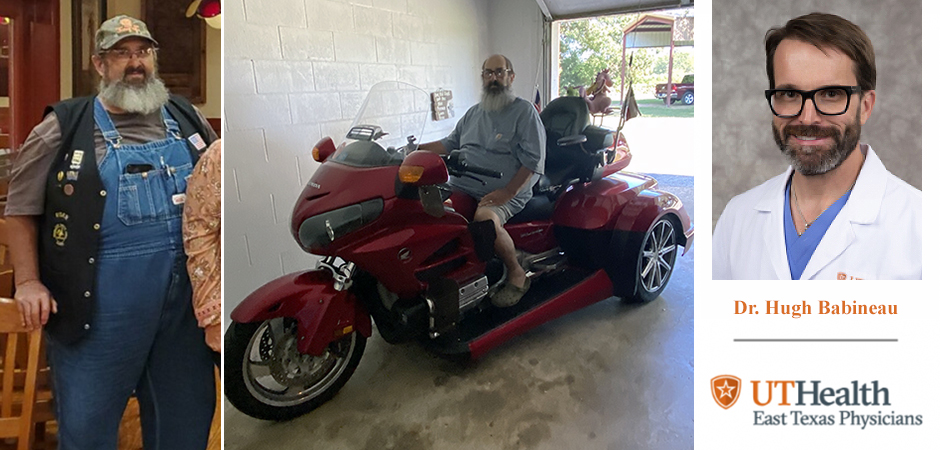 Losing weight and developing a healthier lifestyle is a journey many people want to take. Thomas Martin is living proof that it can be done.
The 67-year-old former gas and fuel oil plant operator has retired with his wife to their more than five acres near Frankston where he raises goats. He spends his days building and repairing fences for their livestock.
But at 340 pounds, Thomas had difficulty maintaining his energy levels while working around the home. To make matters worse, his weight was preventing him from enjoying his real passion: riding his motorcycle.
"I was running out of energy really quick when I tried doing things," he recounted. "The deciding factor was trying to get on and off my motorcycle without falling down."
UT Health Tyler Bariatric Center
That's when Thomas consulted with Hugh P. Babineau, MD, bariatric surgeon and director of the UT Health Tyler Bariatric Center. After discussing possible medical options to reduce his weight, Thomas decided to have gastric sleeve surgery.
"In my 20s and 30s I was probably 30 pounds overweight, but I still could do what I wanted," he said. "But once I got a sit-down job and quit smoking, I really started packing on the pounds."
To prepare for the surgery, Thomas went on a diet of eating just salads. Sometimes he would add boiled eggs, a little cheese, mayonnaise or fajita chicken strips for some variety. Two weeks before the surgery, Thomas went on a mostly liquid diet. By the time the day of the surgery arrived, Thomas had lost 50 pounds and lowered his weight to 290.
"Dr. Babineau told me all about the laparoscopic surgery he would do, which included making four small incisions in my belly to insert the tools he used. I couldn't have asked for better people. He explained everything that was going to happen. It went well, just as he said it would," Thomas said.
Gastric Sleeve Surgery
Bariatric surgery at UT Health East Texas is performed with minimally invasive techniques. That means small instruments are used through small incisions and a camera for visualization. This leads to less pain, shorter recovery, and better outcomes for our patients.
With a sleeve gastrectomy, approximately 80% of the volume of the stomach is removed. After surgery, patients eat much smaller meals and tend to have fewer cravings and hunger than they did prior to surgery. This is because most of our 'hunger hormone' is created in the portion of the stomach that was removed, so after removal of that part of the stomach, there is much less 'hunger hormone' produced.
"I didn't have any complications from the surgery," said Thomas. "Some of the folks on the Facebook support group reported gas pains, but I never had them. The only pain I had was the soreness from the surgery and moving again."
Thomas found a lot of value in the Facebook support group. "The group is really a great idea, as we can talk and hear how people are doing before and after their surgery."
Thomas started his post-surgery recovery by slowly walking around to get rid of the soreness. "I knew my stomach wasn't going to feel better by sitting around, so I would go outside, walk around and feed the goats."
His post-surgery diet for the first few weeks was all liquids. "I drank a lot of protein shakes, chicken soup without the noodles plus cream of chicken and cream of mushroom soups. I couldn't eat anything solid until my third week when I started adding small bites of meat, mashed potatoes and bananas," he said.
Even after the third week, Thomas couldn't eat more than 5-10 bites before getting really full. "The key for me is portion sizes and staying away from sugars. It's only been a few months since the surgery, but I'm already down to 256 pounds, which is 80 pounds less since before the surgery."
Rockin' down the highway
With his weight loss and better mobility, Thomas is now able to easily mount his 2017 Honda GL1800 motorcycle and ride for longer periods. He recently returned home from a 4,260-mile trip through the Midwest.
"My wife didn't go because it was too hot, but I really enjoyed myself," he said. "I rode from Texas to Oklahoma to visit my sister. Then I went to Kansas City and then north to Nebraska, South Dakota, North Dakota, Iowa and then down to Cape Girardeau, Missouri. I stayed and visited with lots of friends and family along the way. I was going to go south through Mississippi to New Orleans to see other friends, but they weren't going to be there. So I just drove west through Arkansas until I made it home."
Along the way, Thomas listened to a lot of music. "My favorite is rock and roll music from the 50s up until the late 80s. Growing up I never really listened to the words of a song, because I'm more about how the music sounds, especially the guitars," he said.
"Born to be Wild" and "Stairway to Heaven" are a few of his favorites, which will certainly be on the playlist for his next trip. "I'm ready to go again, but it will be next spring before I take another trip like that."
Completing the bariatric surgery has given Thomas more energy to enjoy a healthier life and the freedom to see America on the open road. Each day delivers new opportunities to stray from good health and risk gaining lots of that weight back, but Thomas has made great strides to a healthy lifestyle.
"A healthy lifestyle is just like being on the road," Thomas says. "You've got to pay attention."
Ride on, Thomas!
For more information about bariatric surgery and the services offered at UT Health Tyler Bariatric Center, call 903-593-0230 or visit our website.