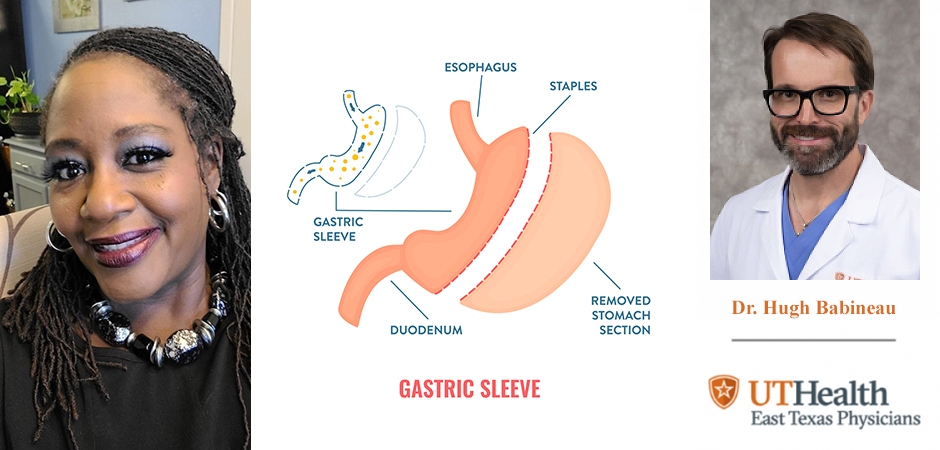 For Carla Lee-Ervin, the days were long and stressful. A 51-year-old widow living just south of Tyler in Flint, for 25 years she worked at Sam's Club. She started as a teller and worked her way up to supervisor of the local store's marketing and membership department.
As she worked, she also dealt with gaining weight, which started in her late teens and kept increasing for 30 years.
"I gave birth to my son at age 18 and I never lost that weight," Carla said. "During my married years, I kept putting on the weight and got up to 387 pounds."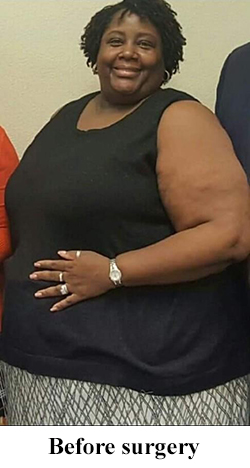 As a result, Carla also suffered from chronic illnesses like diabetes, asthma, fibromyalgia (a long-lasting disorder that causes pain and tenderness throughout the body) and Graves' disease, which is an immune system disorder that causes an overproduction of thyroid hormones.
"I also had arthritis really bad," she said. "It was just so hard to move around with that weight."
Carla tried to stay active, but with her job and family members requiring her attention and energy, it was all she could do to get back home.
"By the time I got off work from my stressful job, I was in too much pain to even think about working out or doing anything."
Then in 2017, Carla consulted with Hugh P. Babineau, MD, bariatric surgeon and director of the UT Health Tyler Bariatric Center. After discussing possible medical options to reduce her weight, Carla agreed to have gastric sleeve surgery. But before Carla could undergo the surgery, she had to go on a protein shake diet for two weeks.
"I had a fatty liver and they wanted that to shrink so that they would have better access to operating on my stomach," Carla said. "I was supposed to drink three to four protein shakes a day and then have a small meal in the evening. By the time the two weeks were up, Dr. Babineau said I could go ahead with the surgery."
Gastric Sleeve Surgery
Gastric sleeve surgery involves the removal of a large portion of the patient's stomach. It keeps the stomach at the same length, but with a much slimmer width, like a shirt sleeve (see the above illustration). No changes are made to the patient's intestines.
Bariatric surgery at UT Health East Texas is performed with minimally invasive techniques. That means small instruments are used through small incisions and a camera for visualization. This leads to less pain, shorter recovery and better outcomes for the patients.
With a sleeve gastrectomy, approximately 80% of the volume of the stomach is removed. After surgery, patients eat much smaller meals and tend to have fewer cravings and hunger than they did prior to surgery. This is because most of our 'hunger hormone' is created in the portion of the stomach that was removed. Removal of that part of the stomach results in much less 'hunger hormone' produced.
Recovery and new eating habits
Carla came through the surgery without any complications and started a liquid diet to help her body get used to a much smaller stomach.
"I drank a clear liquid diet for the first few weeks and then started on soft foods before working my way up to eating regular foods," she said.
Now five years post-surgery, Carla can eat a moderate amount of most foods, but she had to give up some of her favorites.
"I really love peanuts, cashews, anything with nuts, but now I can't eat them. I also can't eat a lot of sweets like ice cream, which has a lot of sugar. Sometimes I will take a couple of bites, but I have to decide if those foods are worth eating and then getting sick or having GI issues. Even now, I don't eat a lot, mostly salads and vegetables," she said.
With her surgery and the new focus on eating more healthy foods, Carla got down to a weight of 243 pounds, losing more than 140 pounds. But she gained a little weight back. For most bariatric surgery patients, this is normal.
"During COVID I lost my mom and then 90 days later, I lost my husband," Carla recounted. "Those years were tough, as I stayed with my son to homeschool my grandkids. That's when I often ate ice cream with them. Mostly though, I've been able to keep most of the weight off."
Today Carla weighs 273 and continues to lose more as she watches what she eats every day. She also walks a lot and spends time at home riding her stationary bike.
"I stay pretty busy taking care of my dad, running him back and forth to his doctor's appointments and caring for my mother-in-law," she said. "Between them and my grandkids, they keep me busy."
Recommendations
To her friends and others who asked about bariatric surgery, Carla said she would definitely recommend Dr. Babineau and his staff.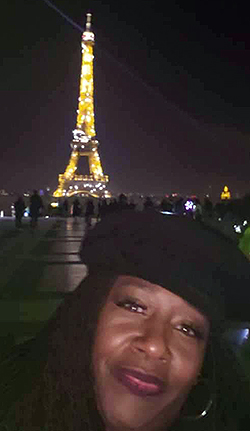 "You've got to look after your own health and they can help you do that," she said. "I went from four insulin shots a day to manage my diabetes to doing one a week. Getting the weight off my feet and knees has helped a lot!"
Carla said what is really needed is a mindful commitment to one's health.
"You have to be very motivated to lose weight. I have friends who had the surgery but did not lose weight in the long run. Your mind has to be made up that you want to be healthy. I've got two grandkids and one on the way. I want to be around to experience their activities and watch them grow. I want to go to Six Flags with them or watch their football games, things I couldn't do when I was heavier."
While she continues to eat healthy foods and exercise, Carla is using her increase in energy to do what she's always wanted to do: travel with family and friends.
"We took a trip to Big Bend National Park in west Texas. As we climbed Emory Peak, I thought, 'I'm going to be with my Mama and Dad soon because I don't know what made me think I could climb this mountain,'" she chuckled. "But I climbed it and my son took a video to prove that I did it."
Carla is now looking further away for future trips. "Last year I went to New Orleans, Denver and then to Paris," she said. "It was wonderful! We did lots of walking there. I'm going to New York soon to see some Broadway shows. The best part of flying is that now I don't have to ask for an extension for the seat belt!"
Safe journeys, Carla!
For more information about the services offered at UT Health Tyler Bariatric Center, call 903-593-0230 or visit our website.