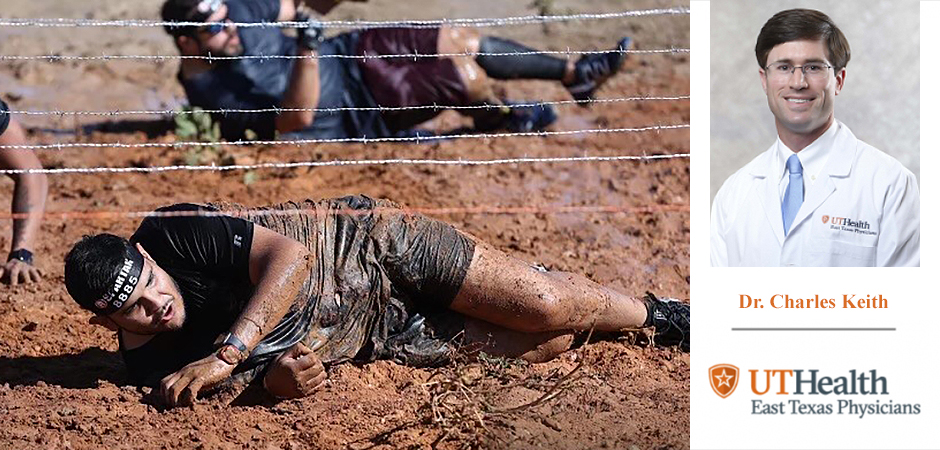 When expecting parents prepare for the arrival of a new baby, especially their first, they usually have a long list of things to do: paint the nursery, decorate the walls and put the baby bed together.
For Hidai and William Sanchez, their list included all of the above items plus one more: William's bariatric surgery.
A 32-year-old welder for Trane Technologies in Tyler, William had suffered through a number of health issues due to his excessive weight.
"I found that I couldn't even walk from my front door to the mailbox without being out of breath," William said. "I was tired all the time. At work, I had to sit down a lot, which wasn't good. Since I weighed more than 350 pounds, I was also having a lot of pain in my lower back and in my knees."
One of his friends had bariatric surgery and highly recommended it, so William and his wife decided to look into it. "My pulmonologist also told me it would be a great idea to learn more. I had a severe case of COVID two years ago, so the surgery and a lower weight could help my lung issues," he said.
William and Hidai made an appointment with Dr. Charles Keith, a board-certified bariatric surgeon at UT Health Tyler Bariatric Center, to learn more about William's surgery options. "We discussed the different kinds of bariatric surgery," said William. "My wife, Dr. Keith and I decided that the best fit for me would be gastric sleeve surgery."
Gastric Sleeve Surgery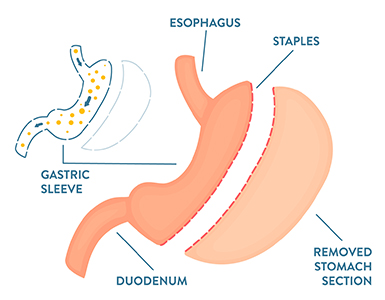 Gastric sleeve surgery involves the removal of a large portion of the patient's stomach. It keeps the stomach at the same length but with a much slimmer width, like a shirt sleeve. No changes are made to the patient's intestines.
Bariatric surgery at UT Health East Texas is performed with minimally invasive techniques. That means small instruments are used through small incisions and a camera for visualization. This leads to less pain, shorter recovery and better outcomes for the patient.
With a sleeve gastrectomy, approximately 80% of the volume of the stomach is removed. After surgery, patients eat much smaller meals and tend to have fewer cravings and hunger than they did prior to surgery. This is because most of our 'hunger hormone' is created in the portion of the stomach that was removed. Removal of that part of the stomach results in much less 'hunger hormone' produced.
To prepare for the surgery, William started a clear liquid diet two weeks before the surgery date. "That diet was pretty intense and mentally tough to do. I had been constantly eating so the liquid diet was a drastic change. It was one of the toughest things I had to do," he said.
On the day of the surgery, William remembers going to the hospital early. "I even remember talking with Dr. Keith beforehand. But after they gave me a shot into my IV, I don't remember anything until waking up in the recovery room."
Good nutrition and more exercise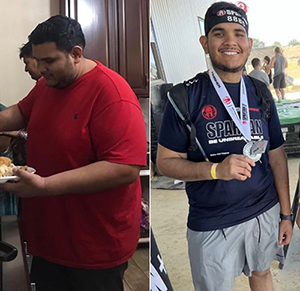 With a successful surgery behind him, it was now up to William to make changes to his diet and lifestyle.
He spoke to Jayden, Tyler Bariatrics' nutritionist, to learn more about portion sizes, what to eat, what not to eat, drinking lots of water, etc. Gone from his diet are hamburgers, tortillas, fried foods and other items.
"My eating habits have changed drastically," William said. "I used to eat everything I could get my hands on. Now I 'listen' to my body when I'm eating anything, even something as simple as a ham and cheese sandwich. I used to eat two; now I can't finish one before I feel full. Basically, it's like being a newborn," said the father-to-be. "You have to relearn what to eat and what not to eat."
William also started an exercise program. At first, he took daily walks around his neighborhood. Later he joined a CrossFit gym, which he continues to visit. "The gym has definitely helped me lose a lot of weight in a short amount of time. It's a pretty intense workout."
He also found time to participate in a Spartan 5K run, a classic obstacle course and race. According to their website, the Spartan 5K Sprint combines "relatively easy trail running with 20 obstacles, held on off-road terrain featuring water and mud. Climb walls, crawl under wire, traverse monkey bars, aim a spear throw and more."
"It was pretty challenging," said William, "and pretty cool. I really liked it."
Together with the surgery, better eating habits and a lot more fitness activities, William has lost more than 100 pounds. In addition, he no longer suffers from back issues or knee pain. "I feel so much better. Now I think I can keep up with our twin girls when they arrive in the spring."
William gives all the credit to Dr. Keith and his staff who answered his questions and prepared him for the surgery and beyond.
"I am very pleased with the entire process and obviously the results. Besides marrying my wife, this was the second-best decision I've ever made. I really wish I would have done it earlier. To anyone considering bariatric surgery, I would say that they should go ahead and get it done!"
For more information about the services offered at UT Health Tyler Bariatric Center, call 903-593-0230 or visit our website.