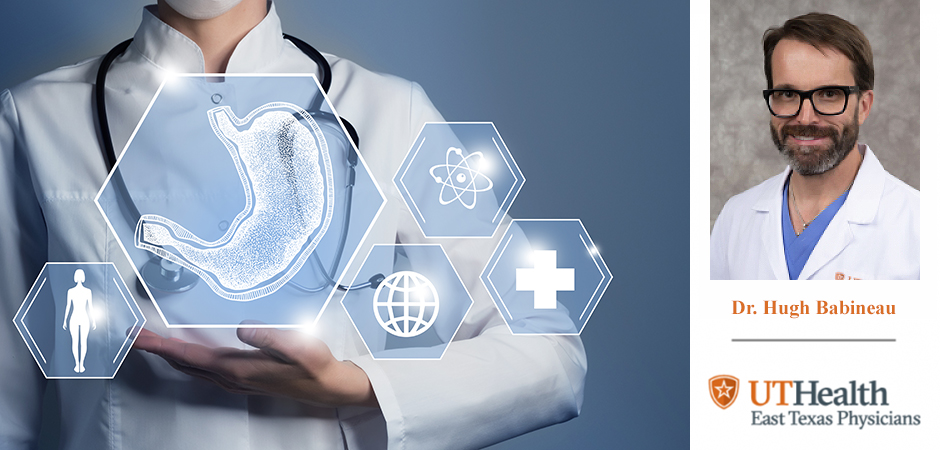 Yvonda Gilliam, a 62-year-old resident of Troup, didn't grow up overweight.
As a youngster, she played all kinds of sports and enjoyed lots of different activities. Even as an adult, she was an avid walker and weighed an average weight.
But that all changed in her 30s when she dealt with the dual issues of depression and relationship problems, which together caused both issues to get worse. To comfort herself and forget her troubles, she turned to food.
"At my smallest, I probably weighed around 160 pounds," said the 5' 6" adult, known as "Miss Von" to so many in town. "But before I had my surgery in 2009, I weighed more than 400 pounds."
She knew she had to stay active to lose weight, but she had a very difficult time doing so. "I had gotten so big that I would be walking and then I would lose my balance at times, making it hard to walk. That's the reason why I decided to have the surgery," she said.
Gastric bypass surgery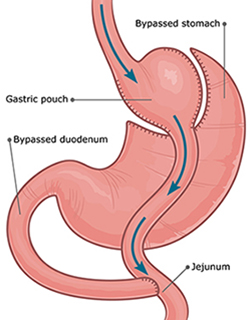 She turned to Hugh P. Babineau, MD, FACS, FASMBS, a bariatric surgeon who practices at UT Health Tyler Bariatric Center. Dr. Babineau recommended to Yvonda that she undergo gastric bypass surgery. "For most patients with obesity and related conditions, bariatric surgery remains the most effective intervention for improving their overall health," said Dr. Babineau.
For gastric bypass surgery, the surgeon will divide the stomach into two parts: a much smaller pouch and the larger remaining portion of the stomach. The small intestine is then connected directly to the pouch, which bypasses the rest of the stomach.
This results in a smaller stomach that gets fuller faster, thus keeping the patient from eating as much as before.
"Dr. Babineau and his staff helped me understand what was going to happen during the surgery and what I needed to do afterward," said Yvonda.
Healthy eating and exercising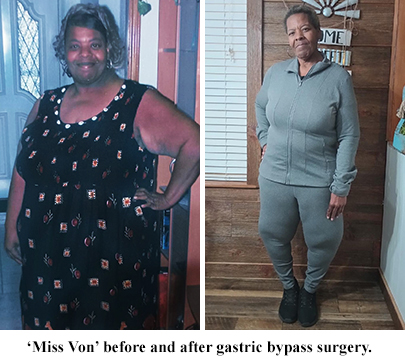 The surgery was a success and Yvonda worked hard to learn better eating habits.
"Well, I'm a very good cook, but I had to learn how to eat healthier. Even though I have a sweet tooth, I can't eat cake or bread or drink sodas. Now I drink mostly water. I also try to eat more green vegetables like green beans, broccoli, cauliflower and lots of salad."
"I went to a lot of Dr. Babineau's classes, worked on the exercise machines and did a lot of walking. Sometimes I would walk up by the school in Troup; students and people downtown would walk with me, cheering me on."
Today, Yvonda weighs a little under 200 pounds and continues to stay active to keep the weight off. Yvonda is now looking at ways to get rid of some of the extra loose skin that is now present after her weight loss.
She is checking with some burn centers in the state to see if she qualifies to donate her loose skin to patients who need a skin graft.
Future with dancing
Now that she has lost the weight and has kept it off, Yvonda is planning a permanent move north to Denison where her daughter and 6-year-old granddaughter live.
"My granddaughter calls me Von Von and is very excited that I am moving up there to be with her," said Yvonda. "I'm going to have to keep up my walking and my exercises just so I can keep up with her!"
Her granddaughter loves to dance to the music on her phone. She keeps telling Yvonda, "We've got to go dancing!"
"My mother passed away a few months ago," explained Yvonda, "so my granddaughter says I have to be her new dancing partner. She says, 'Mamaw's not here anymore, so Von Von's got to take Mamaw's place. Mamaw's in heaven looking down on us, so we've got to make Mamaw happy by dancing.'"
Thanks to the bariatric surgery, it sounds like the whole family will be a lot happier now that Yvonda can dance again.
For more information and to find out if you qualify for weight-loss surgery, visit our website. You can also call our office at (903) 593-0230 or send us an email.