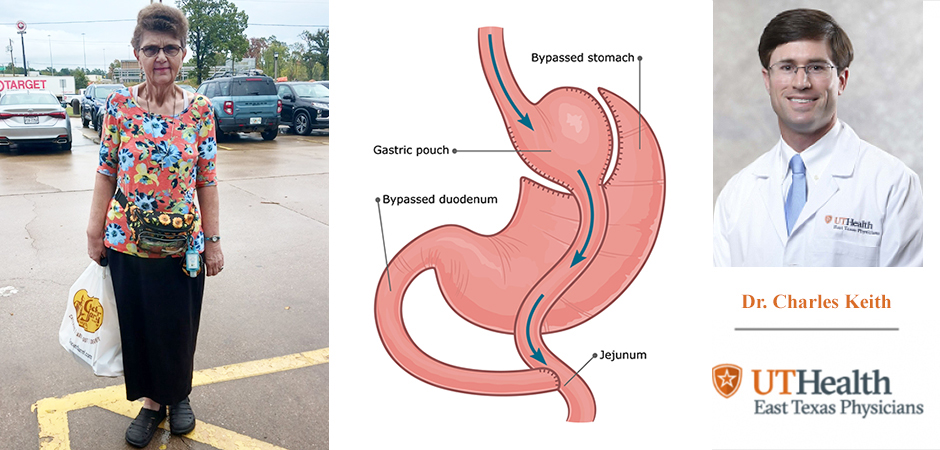 While spending years on the road hauling freight as a team truck driver with her husband, Marie Graham kept trying to lose weight, but without much success.
"We tried all kinds of stuff," said the retired 59-year-old Tyler resident. "Medications, exercise, dieting – nothing would take the weight off. Since I also had a fatty liver, I needed to lose weight because I didn't want to go through a liver transplant. That's when I looked into bariatric surgery."
During her career hauling dog food, oil and even slot machines for national companies, Marie weighed as much as 290 pounds and wore 4X clothes (size 26W-28W) on her 5' 5" frame.
Complicating matters was a past hiatal hernia surgery. A hiatal hernia occurs when weakened muscle tissue allows your stomach to bulge up through your diaphragm. After scanning Marie's stomach, it was determined that the hernia had opened again and was much larger than before.
Gastric Bypass Surgery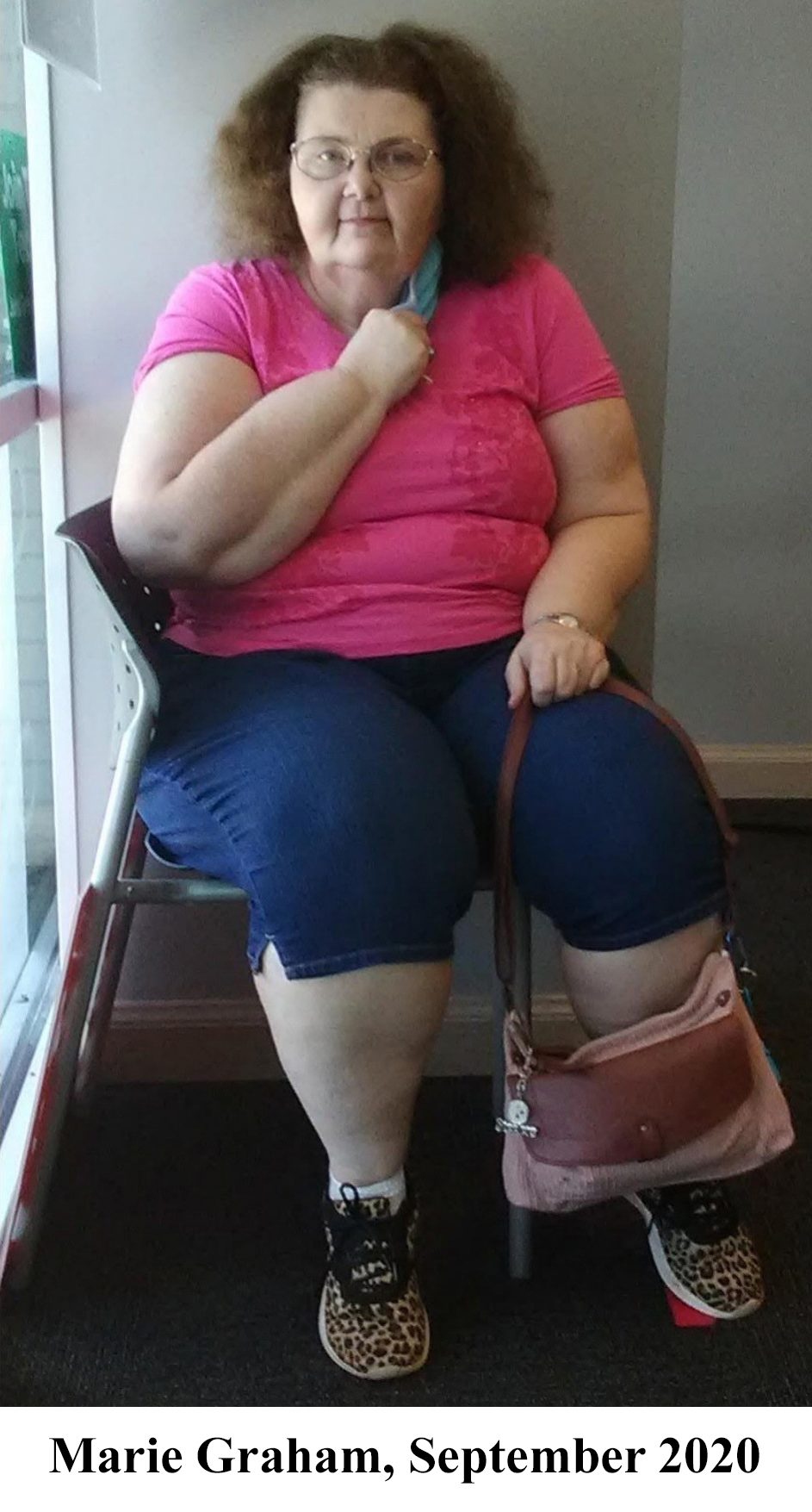 To prepare for the surgery, Marie talked to a nutritionist about the food and beverages she could consume before and after the surgery. She also spoke to a physical therapist to discuss the different kinds of exercises she could do without injury.
After consulting with Dr. Charles Keith, it was determined that the best surgery option for Marie was gastric bypass surgery (in addition to surgery to repair the hernia).
The gastric bypass procedure (illustrated above) divides the stomach into two unequal parts. The top part, now called "the pouch," is only about the size of an egg. The rest of the stomach becomes called "the bypassed stomach," or "excluded stomach" because food and drinks no longer enter it. The bypassed stomach is not removed, and it still makes enzymes that help with digestion.
Once the pouch has been created, food comes in at the top, and then leaves the pouch through a small opening called the "stoma" and travels into the intestines where digestion can take place. The juices from the bypassed stomach travel down a different part of the intestines, and ultimately are mixed with the food. This results in a smaller stomach that gets filled quicker, thus keeping the patient from eating as much as before.
For Marie, the surgery was a success without any complications, which led to her recovery and physical rehabilitation efforts, as well as shopping for new clothes.
Finding a New Wardrobe
"I bought a stationary bike to get into a regimen of daily exercise," she said. "I also have the 39-foot travel trailer I used to drive, so I walked inside it every day, making several trips up and down. That's how I started to drop the weight."
Marie weighed 288 when she had the surgery. Now she is down to 148. After donating eight bags of her larger clothes to area non-profit organizations, Marie had to find lots of new clothes in her current size.
"I'm now down to a size 4-6. I have lost weight from head to toe, including my breasts, waist and feet. Even my dentures don't fit as tight as before. I went to a yard sale a couple of weeks ago and found a pair of size 6 jeans that fit. I haven't been in name-brand blue jeans since I was a kid!"
Another benefit of losing weight is that Marie was able to discontinue or decrease the number of medications she took to manage her blood pressure, asthma, cholesterol, heartburn and acid reflex.
When people ask her how she lost so much weight, she quickly recommends Dr. Keith and the staff at UT Health Tyler Bariatric Center.
"I do recommend this program to people," she recounted. "I have a lady at church who wants to lose weight. I gave her one of Dr. Keith's materials on Sunday and told her, 'Go see him. He'll take care of you.'"
With her lighter weight and easier time walking, Marie looks forward to traveling a bit more. Earlier this year she spent a week in Colorado Springs and two weeks in Apple Valley in California. Last year she spent two months with her family in western Pennsylvania.
A big Pittsburgh Steelers and Pirates fan, she probably needs to go shopping for a new Steelers jersey or a Pirates sweatshirt – if the store has not sold all of the small sizes.
For more information about bariatric surgery and the services offered at UT Health Tyler Bariatric Center, call 903-593-0230 or visit our website.