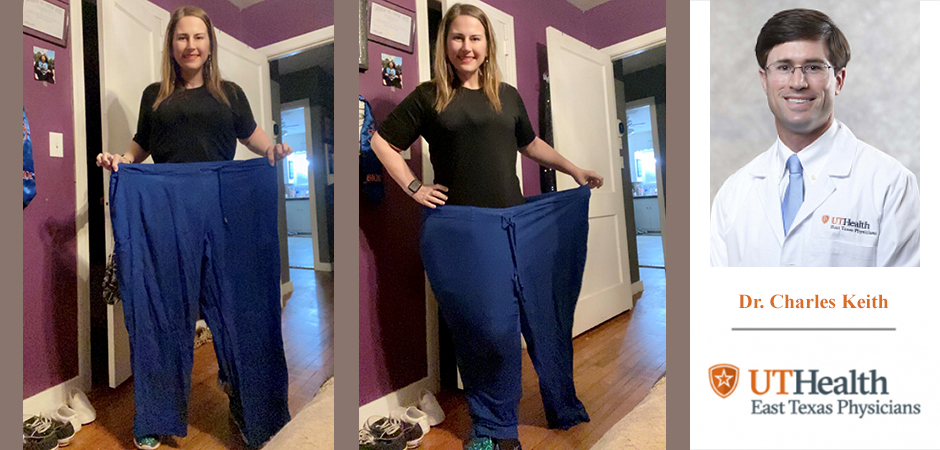 For Shelby Grimes, a 30-year-old single mom in Lufkin, her dependency on food for comfort started in her teens.
"I used to dance and was very active in high school," she recalled. "But eventually I got into different extracurricular activities, started working a job and my activity level changed a lot. I even lost a lot of the friends I had, so I started turning to food to feel good about myself."
At the start of high school, Shelby weighed around 135 but doubled her weight by graduation to a total of 280 pounds.
"My mindset then was always 'What's going to be my next snack?' 'When is my next meal?' 'Where are we going to eat?' I didn't realize how much my thoughts and life revolved around food," she said.
Family health issues
Shelby's family health history was also working against her, as the entire family had struggled with obesity. She stayed around 300 pounds for a few years until a tragic event struck: her mother passed away from a heart attack.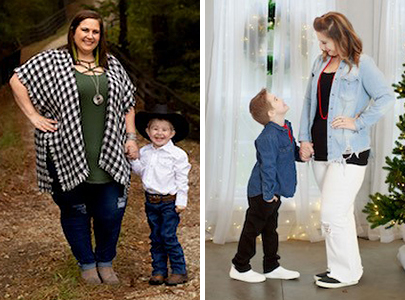 "My mother had her first heart attack when she was 30, the same age I am now. She had the second attack 10 years later and didn't make it. I was 21 at the time," she said.
Shelby's reliance upon food for comfort continued for many years as she married, gave birth to her son and eventually divorced.
"That's when I went from about 300 pounds all the way up to 375. I just kept eating for comfort. I would think, 'Food won't tell me no. Food won't make me cry. Food won't make fun of me.' I thought it was doing me good, but all it was doing was harming me by putting on more weight."
She also kept convincing herself that everything was okay.
"I told myself, 'Sure, I'm almost 400 pounds, but I can still do stuff,' but in reality, I couldn't. I couldn't walk around and shop, I couldn't fit in regular office chairs and I couldn't walk upstairs because they wore me out. That's when I decided to be proactive and prevent a major health issue from ever happening to me."
She had a friend who had bariatric surgery a couple of years earlier and wholeheartedly recommended Dr. Charles Keith.
"When I went in for that first consultation, I was not expecting what Dr. Keith did for me. During our one-on-one conversation, he drew a sketch of each surgery that he felt I was qualified for. He wrote down all the pros and cons, risk factors and complication rates. The depth of information was great, so I was very confident when we came to an agreement that the best surgery for me would be a gastric bypass."
Gastric bypass surgery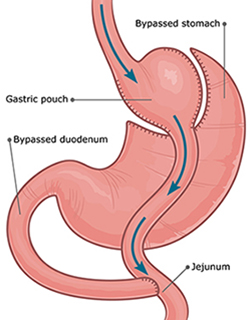 While there are a couple of different versions of gastric bypass surgery, the basics are the same. The surgeon will divide the stomach into two parts: a much smaller pouch and the larger remaining portion of the stomach. The small intestine is then connected directly to the pouch, which bypasses the rest of the stomach.
This results in a smaller stomach that gets filled quicker, thus keeping the patient from eating as much as before.
Bariatric surgery at UT Health East Texas is performed with minimally invasive techniques. That means small instruments are used through small incisions and a camera for visualization. This leads to less pain, shorter recovery and better outcomes for the patients.
More mind games
After a successful surgery, the biggest challenge was dealing with a new set of worries.
"One of my first thoughts after surgery was, 'What did I just do? Everything is cut up and rerouted inside of me.' This gave me lots of anxiety," she said.
Shelby also had to quickly face some big changes to her eating habits.
"For the first couple of months after my surgery, I had a severe case of 'buyer's remorse.' There was no going back at that point. It was pretty brutal at first, especially mentally. After turning to food for comfort for so long, I just had to deal with being cut off 'cold turkey' from my favorite foods."
Shelby was on a liquid diet for the first couple of weeks and then moved up to soft foods for a few more weeks. Afterward, she could eat all foods, but had to eat slowly and chew everything very well. She was also advised not to drink fluids 30 minutes before or after eating. This helped her feel full longer after a meal.
These days, Shelby stays away from sugars, carbonated drinks and empty carbs. "I do minimal carbs, such as healthy carbs found in seasonings and vegetables. I also stay away from bread, pasta, chips and sweets. For me, it's all about veggies, proteins, fluids and lots of water."
Shelby also had to overcome a common public perception that undergoing bariatric surgery was taking the 'easy way' to weight loss.
"I tell everybody that it's not easy. You still have to make good food choices, you have to decide not to overeat or snack on junk food. You have to choose to be active and walk that extra distance. I tell them to give themselves a two-to-three month grace period to get familiar and mentally adjust to the new lifestyle. I thought I was ready, but I wasn't. This new lifestyle will knock your socks off and rock your world, but it is so worth it. It's been the best decision I ever made."
She also found a lot of support from Dr. Keith and his staff. "He has always been so supportive every time I came in for a follow-up appointment. His staff never makes you feel ashamed or judged for asking questions. I have a very comfortable relationship with them, which is so important when going through this life-changing surgery."
Beginning a new life
Now a registered nurse working on clinical documentation integrity, Shelby has a solid job and a bright future with her son. And since she is down to 182 pounds, she is getting ready to check some items off her new bucket list.
"Years ago I waited in a long line to ride a carnival ride," Shelby said. "When it was finally my turn, I sat down but could not snap the safety belt completely. I had to get out and walk all the way back while my friends rode on the ride. Now that I'm a lot smaller, I want to go to Disney World and ride the rides with my son!"
Another thing she wants to do is get a spray tan. "I know that's something small, but when I was almost 400 pounds, I didn't feel comfortable or competent enough to go get one. I can even lay on a tanning bed, which I couldn't do before my surgery. Tanning beds have a maximum weight limit of 250 pounds."
The final item on her bucket list may take a bit more courage. "If I can ever get enough courage, I want to go skydiving. I think jumping out of a plane and floating free in the sky would be so refreshing. It certainly is so rejuvenating for me – a phoenix rising from the ashes of my past life," she said.
Message for those considering bariatric surgery
"I've been telling people to not let fear stop them from considering this life-changing event. After the surgery, you will have a mental battle far more difficult than anything physical. But by going in with that positive mindset and allowing yourself to struggle the first few months, you will succeed and get your life back. My biggest regret is that I didn't have the surgery sooner," Shelby said.
For more information about the services offered at UT Health Tyler Bariatric Center or to make an appointment, call 903-593-0230 or visit our website.